/about/campus_resources/observatory/
Contact Information
Dr. Harry Augensen
Professor of Physics & Astronomy
hjaugensen@widener.edu
tel: 610-499-4003
fax: 610-499-4496
History
39° 51' 44" N 75° 21' 30" W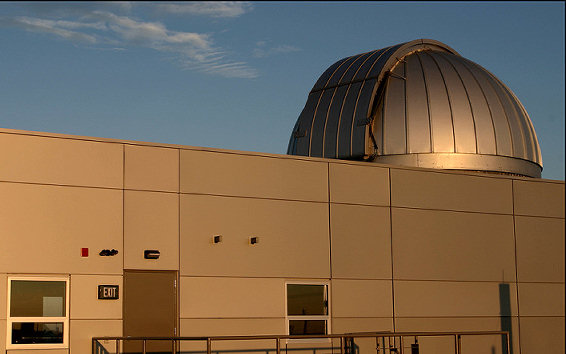 The observatory is located on the 5th floor of the new addition to Kirkbride hall. Room number is 503.
Room 502 is the control room for the observatory, room 501 is a multimedia classroom.
---
Instruction manuals and presentations
Pictures of the dome being lifted onto the building
Pictures of the building, dome, and observing decks
Pictures of the support structure for the scope
Pictures of the telescope, weather station, dome control
Equipment list for the observatory
---
---

If the sticker above is updating every few seconds Rapid Fire is active, click here for a larger sticker with more data.
---

For cloud cover, transparency, and seeing: Blue is good, White is bad.
---